Madyati Kaya Tailam: The Herb-Infused Body Massage Oil
Regular price

₹595.00

Sale price

₹495.00
Madyati Kaya Tailam embodies the essence of tranquility in an Ayurvedic body oil. Infused with a soothing blend of herbs and nurturing oils, it imparts an experience of serenity through daily Abhyanga (self-massage).
Massaging Madyati for 15 minutes before a bath opens up pores for better skin cleansing and can elevate your bathing rituals.
The oil penetrates deep to the tissue level, easing muscle tension and soothing your nerves. It helps the body rid itself of toxins to enhance vitality. Madyati Kaya Tailam leaves the skin feeling lustrous and gleaming!
This blend offers more than physical rejuvenation. It opens the door to self-connection, inner peace, and well-being.
Stimulates blood circulation

for a lustrous complexion

Helps

relieve fatigue and stress

through self-massage 

Detoxifies the skin to deeply

nourish tissues and bones

Helps

relieve tense muscles and joints
Soothes the body

and

improves overall vitality
Key Ingredients

Saffron, Ashwagandha, Black Sessame
How to Use

Take a few drops of the oil. Apply on the body and massage well.
Ingredients

Licorice, Rosemary, Vetiver, Ashwagandha, Saffron, Rose, Sandalwood, Wheatgerm Oil, Frankincense Oil, old-Pressed Almond Oil, Cold-Pressed Black Sesame Oil, Argan Oil, Vitamin E, Extra Virgin Olive Oil.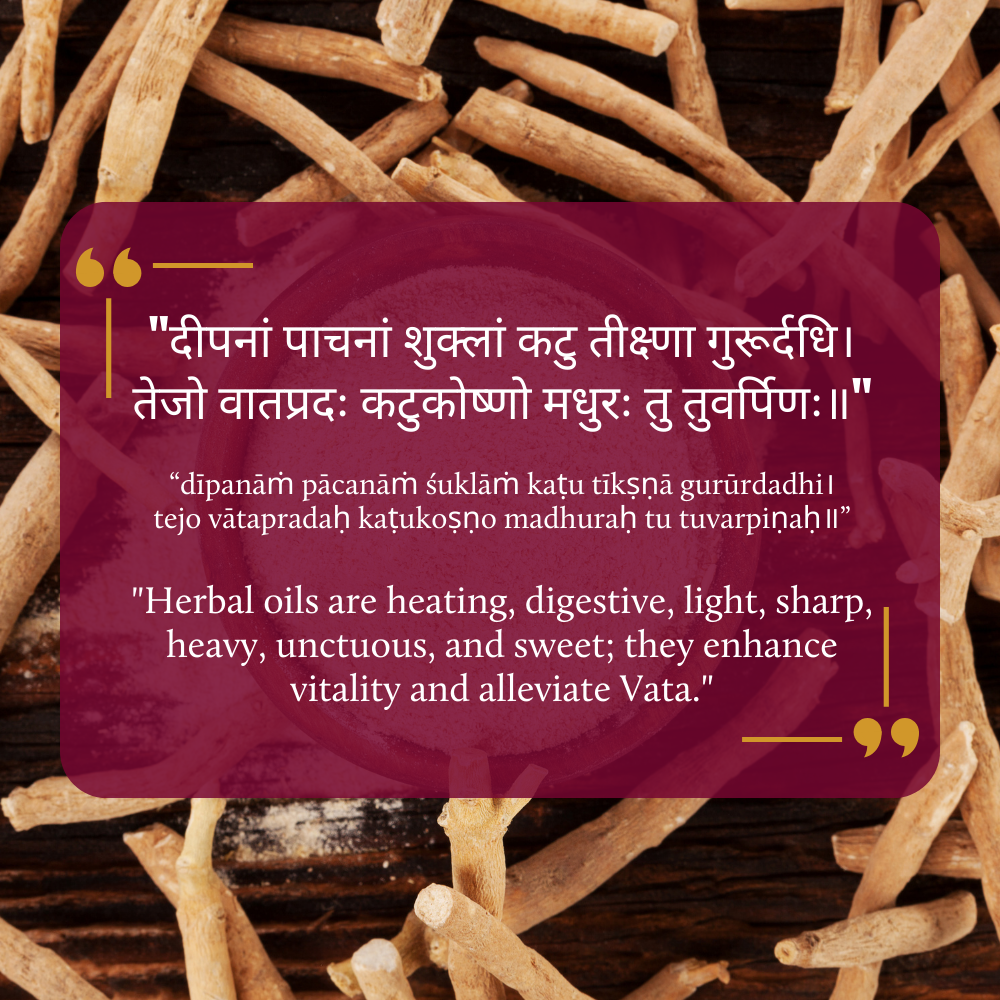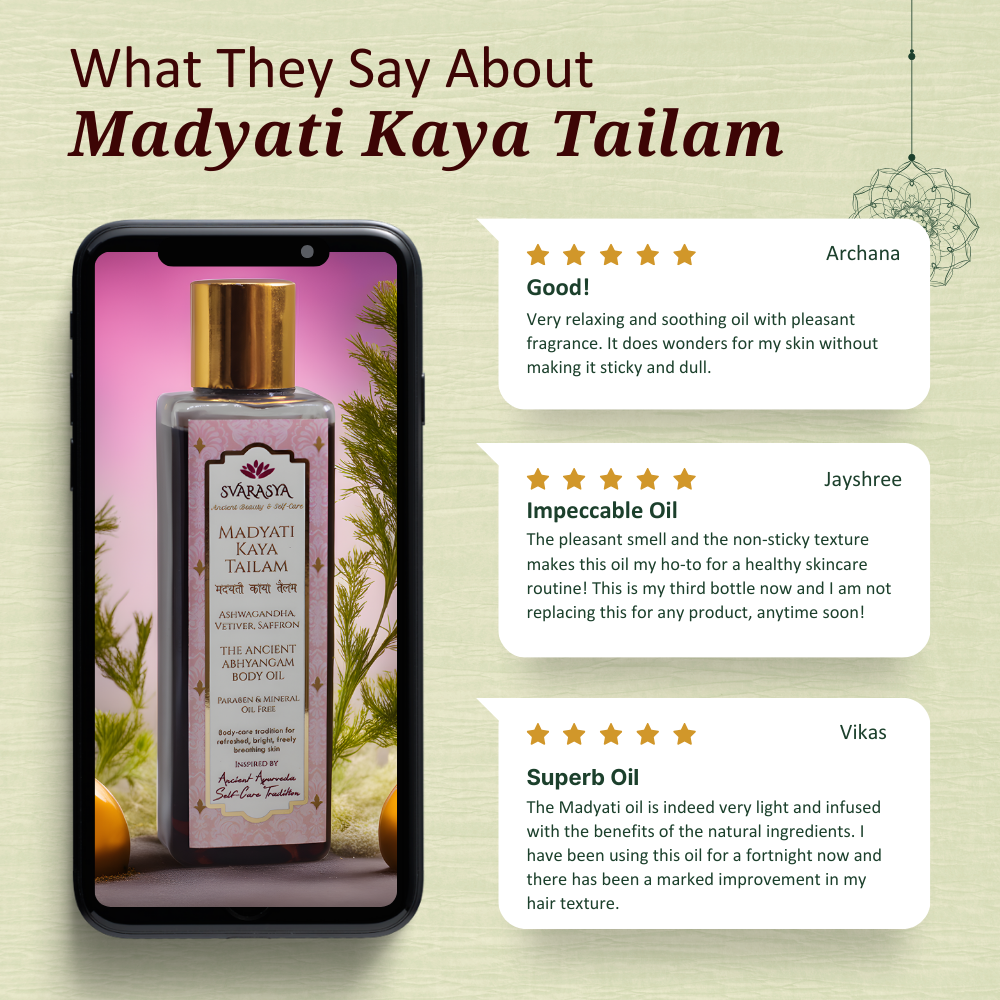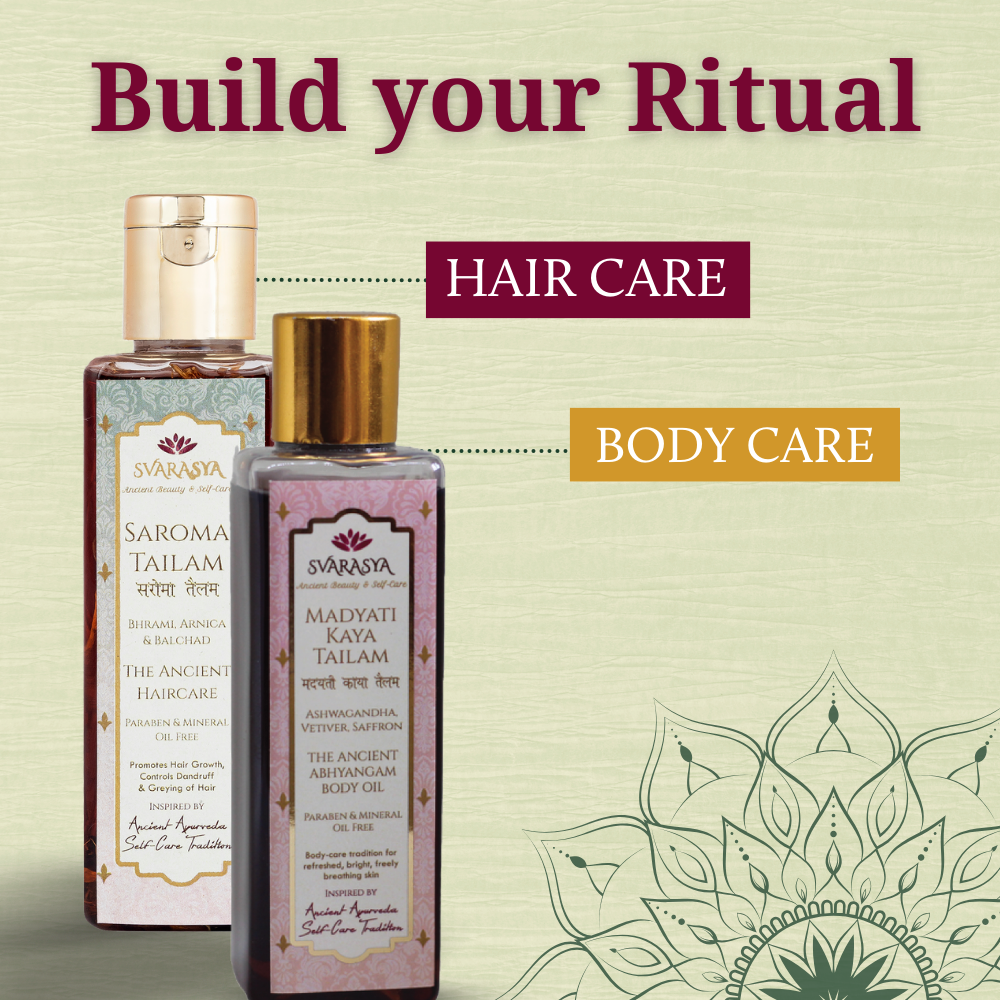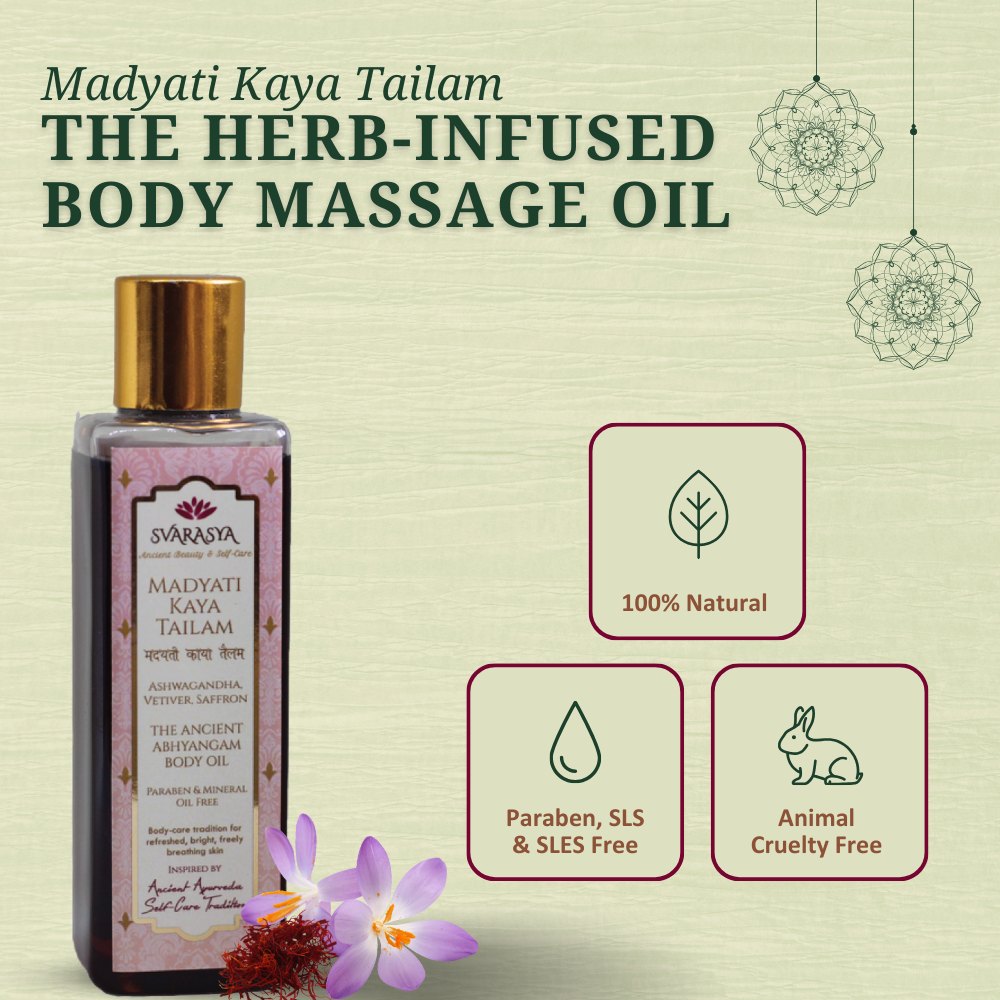 Key Ingredients
Saffron

Saffron is the royal spice & transformational ingredient known to illuminate the complexion & impart a golden glow to the skin.

Ashwagandha

This adaptogenic herb is anti-inflammatory and helps reduce stress and fatigue by easing muscle tension and promoting a sense of calm.

Black Sesame Oil

Rich in antioxidants and essential fatty acids, black sesame oil nourishes the skin, promotes collagen production, and helps maintain skin elasticity.
The Essence of Madyati Kaya Tailam
Abhyanga' is an ancient art and ritualistic practice of anointing the body with meticulously crafted herb-infused oils. Its purpose is to rekindle and harmonize the body's innate capacity for self-healing. 
Deeply rooted in Ayurvedic wisdom, Abhyanga is a cornerstone of the daily self-care routine known as 'Dinacharya'.
This ritual includes the application of aromatic, herb-infused oils upon the entire body, followed by a gentle self-massage.
A soothing bath in warm water follows next, opening up the skin's pores for deep cleansing. 
The daily practice of Abhyanga, enriched by Madyati Kaya Tailam, facilitates the release of oxytocin, the "feel-good hormone.- combining both mind and body rejuvenation!
How Madyati Works for Your Body
Detoxifies the Skin
Regular massage with Madyati kaya Tailam helps with lymphatic drainage and purges out toxins to improve overall skin luster.
Stimulates Blood Circulation
The act of Abhyanga combined with Madyati Kaya Tailam's active botanical ingredients promotes increased blood flow, which enhances circulation, oxygenating the body's tissues for improved vitality.
Relieves Stress and Fatigue
A sense of calm is bestowed upon the body as one gently indulges in a soothing massage with this Ayurvedic blend of aromatic ingredients like Ashwagandha and Vetiver.
Relaxes Tense Muscles and Joints
Focused self-massage using this herb-infused oil helps relieve tension in muscles while releasing stiffness from the joints.
Improves Overall Vitality
Regular use of Madyati Kaya Tailam, with its nourishing components like Black Sesame Oil and Rosemary, contributes to enhanced vitality and well-being, making you feel more energetic and alive.
FAQs
How long should I keep Madyati Kaya Tailam on?

Perform abhyanga massage (self-massage) using this oil from top to bottom for a relaxed body experience.
Does Madyati Kaya Tailam have natural herbs in it?

Yes Madyati Kaya Tailam is made by infusing rare Ayurveda herbs in cold-pressed oils including sesame oil.