Saroma Tailam: The Herb-Infused Hair and Scalp Massage Oil
Regular price

₹695.00

Sale price

₹595.00
This luxurious hair oil harnesses the profound healing essence of nature in its purest form. With rare herbs infused directly into each bottle, Saroma Tailam makes for a nourishing yet exotic scalp massage oil like no other.
It draws inspiration from the ancient practice of self-Shiro Abhyangam, an Ayurvedic ritual that nourishes the scalp, shoulders, and neck. Saroma Tailam not only rejuvenates the scalp but also strengthens the hair, offering a soothing experience for the mind and nervous system.
The therapeutic herbs harmonize the energy pathways of the head, unveiling a transformative effect on scalp and hair concerns, such as dandruff, hair loss, and premature greying. 
This elixir herbal blend is key to reducing stress and elevating one's overall sense of well-being.
Stimulates the mind and nervous system

through a soothing massage

Clears up energy pathways

for better flow

Helps relieve stress

and fatigue

Improves blood flow

to the scalp

Strengthens hair roots

and enhances

hair growth
Imparts a calming effect
Key Ingredients
How to Use

Take a few drops of the oil. Apply on the scalp and massage well.
Ingredients

Bharmi, Arnica, Vetiver, Hibiscus, Fenugreek, Black Seed, Balchad, Rose Petals, Curry Leaves, Amla, Heena Leaves, Neem Oil, Wheatgerm Oil, Cold-pressed Almond Oil, Cold-pressed Black Sesame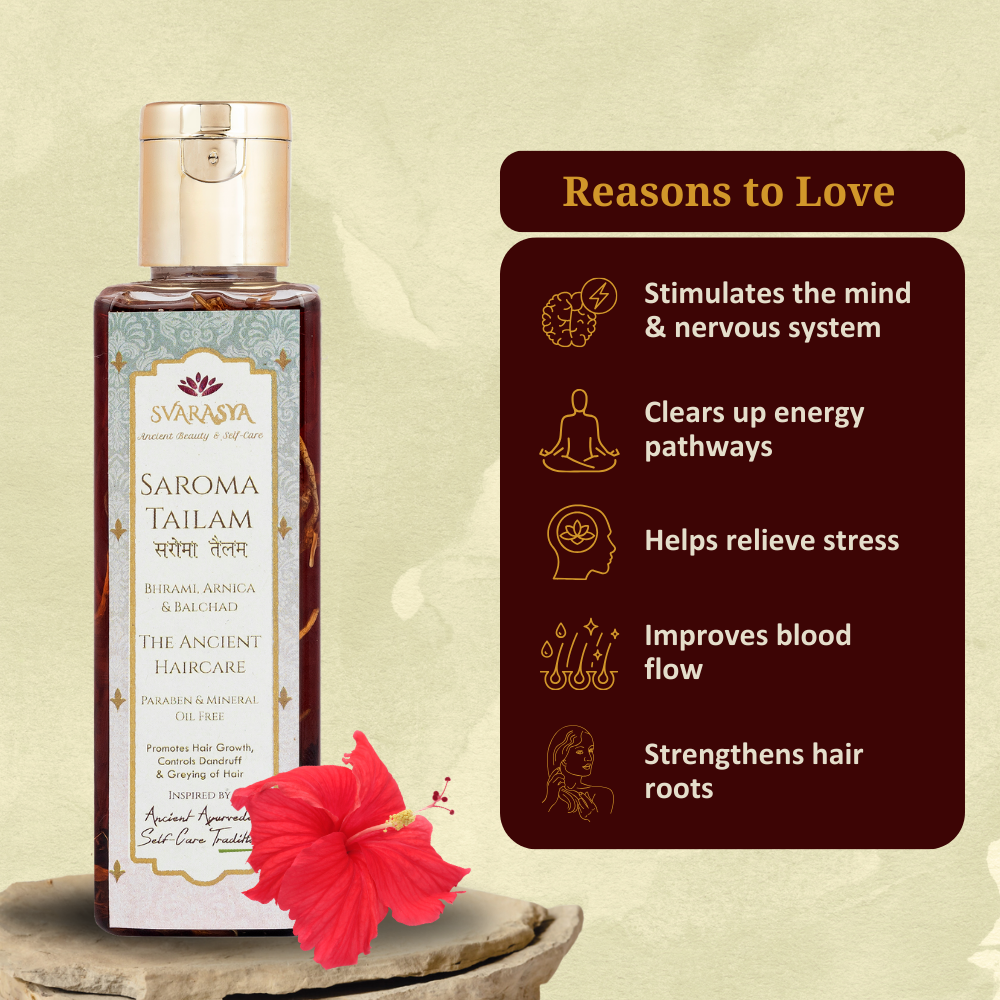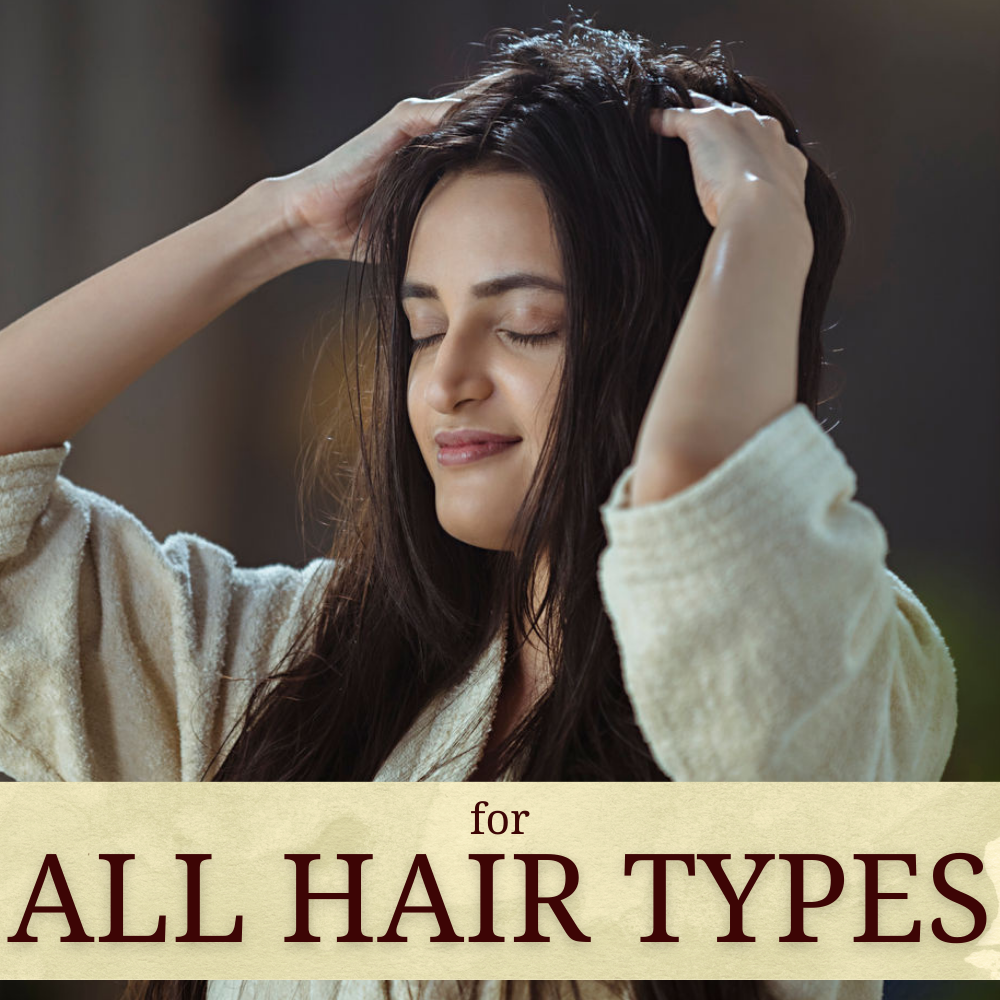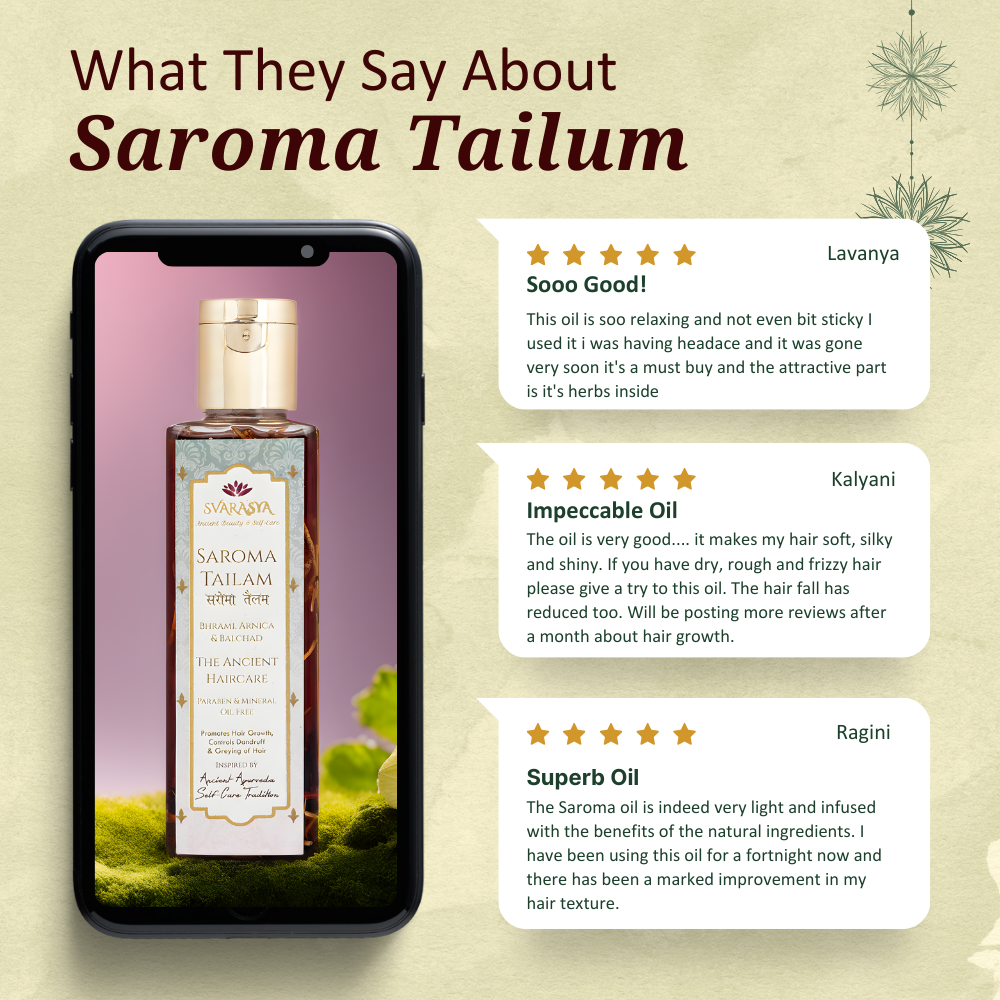 Key Ingredients
Brahmi

Brahmi calms the mind and nurtures hair with its potent bacosides, supporting scalp health and hair strength

Arnica

Arnica possesses anti-inflammatory which can soothe scalp inflammation and tenderness.

Hibiscus

Hibiscus nourishes and conditions hair, reducing breakage and promoting overall hair health.
Shiro-Abhyanga is a venerable Ayurvedic ritual, steeped in tradition and wisdom, that imparts rejuvenation to the body, mind, and spirit. 
Translating to "head massage" in Sanskrit, Shiro-Abhyanga entails the artful application of therapeutic oils to the scalp, shoulders, and neck, invoking a harmonious balance between these vital energy centers. 
This cherished practice transcends mere physical relaxation; it fosters inner tranquility, reduces stress, and promotes holistic well-being.
Saroma Tailam is an integral component of the Shiro-Abhyanga experience, elevating it to a transformative journey of self-care. 
Indulge in the rhythmic, expert strokes of Shiro-Abhyanga with Saroma to nurture a state of exquisite well-being.
Promotes Hair Growth
Regular massage with Saroma helps nourish hair follicles, strengthening them for better hair growth.
Nourishes the Scalp
The presence of Curry leaves and Hibiscus deeply nourishes the scalp, delivering essential nutrients and antioxidants that promote optimal scalp health.
Relieves Stress and Fatigue
A sense of calm is bestowed upon the mind as one gently indulges in a soothing massage with this Ayurvedic blend of aromatic ingredients like Brahmi and Vetiver.
Stimulates Blood Circulation
The act of Abhyanga combined with Saroma's active botanical ingredients promotes increased blood flow, which enhances circulation, oxygenating the scalp tissues for improved vitality.
Improves Overall Vitality
Regular use of Saroma, with its nourishing components like Fenugreek and Arnica, contributes to enhanced vitality and well-being with a calming effect.
Quick view

Saroma Tailam: The Herb-Infused Hair and Scalp Massage Oil

Regular price

₹695.00

Sale price

₹595.00
Quick view

Sukesa: Aromatherapy Hair Cleanser for Dry and Frizzy Hair

Regular price

₹695.00

Sale price

₹595.00
Bundle & Save
Ancient Skin Rituals
Wonderful
using since 10 days it is showing result, scalp is improving. hairfall is reducing promoting hair growth. . fragrance is also good . you can give it a try.
Best in the market!
Worth buying,paraben and mineral oil free,promotes hair growth, controls dandruff and greying of hairs,contains all helpful ingredients. go for it
Must buy!
results on my hair is awesome.\nhelps me for a healthy and strong hair and scalp.\nimproving my hair growth.
Terrific
The quality and the ingredients used are awesome and great for hair. It is really very effective and using it regularly. It has nourished my hair and also have given a fine texture
FAQs
Is this oil only meant for a head massage?

Saroma Taliam can be used for head massage as well as to soothe the scalp after a day's stress.
Can I use this product for hair fall?

Yes Saroma Tailam can be used to arrest hair fall.
How long should I keep this oil on?

Keep Saroma Tailam for at least 30 minutes before shampooing. You can also keep it applied overnight for better results.