Sukurabu - The Ancient Japanese Scrub for Clear Skin
Regular price

₹695.00

Sale price

₹595.00
This ancient recipe mirrors the beloved Japanese skincare ritual of 'Sukurabu,' akin to the contemporary 'scrub.' Our formulation skillfully combines these lavish ingredients into a finely ground, non-greasy exfoliator designed for daily indulgence.
Deeply rooted in Japanese tradition, Sukurabu holds Rice as its star component, enriched with over 70 antioxidants that rejuvenate the skin, leaving it as radiant as porcelain.
The gentle combination of Lavender and Licorice imparts a profound and lasting glow, offering an authentic and refined skincare experience.
Gently

exfoliates dead skin

from the surface

Deeply

cleanses impurities

for clearer skin

Enriches the

skin with natural oils

to maintain pH balance

Heals sun-damaged skin

with natural mineral protection

Renews skin texture to

reveal smoother skin
Improves skin elasticity

for younger-looking complexion
Key Ingredients

Rice, Clove Extract, Licorice
How to Use

Mix one teaspoon of face scrub with water. Make a paste & gently rub it on the face & neck for a few minutes and wash off.
Ingredients

Rice Bran, Rice Bran Oil, Rice powder, Clove extract, Lavender, Licorice extract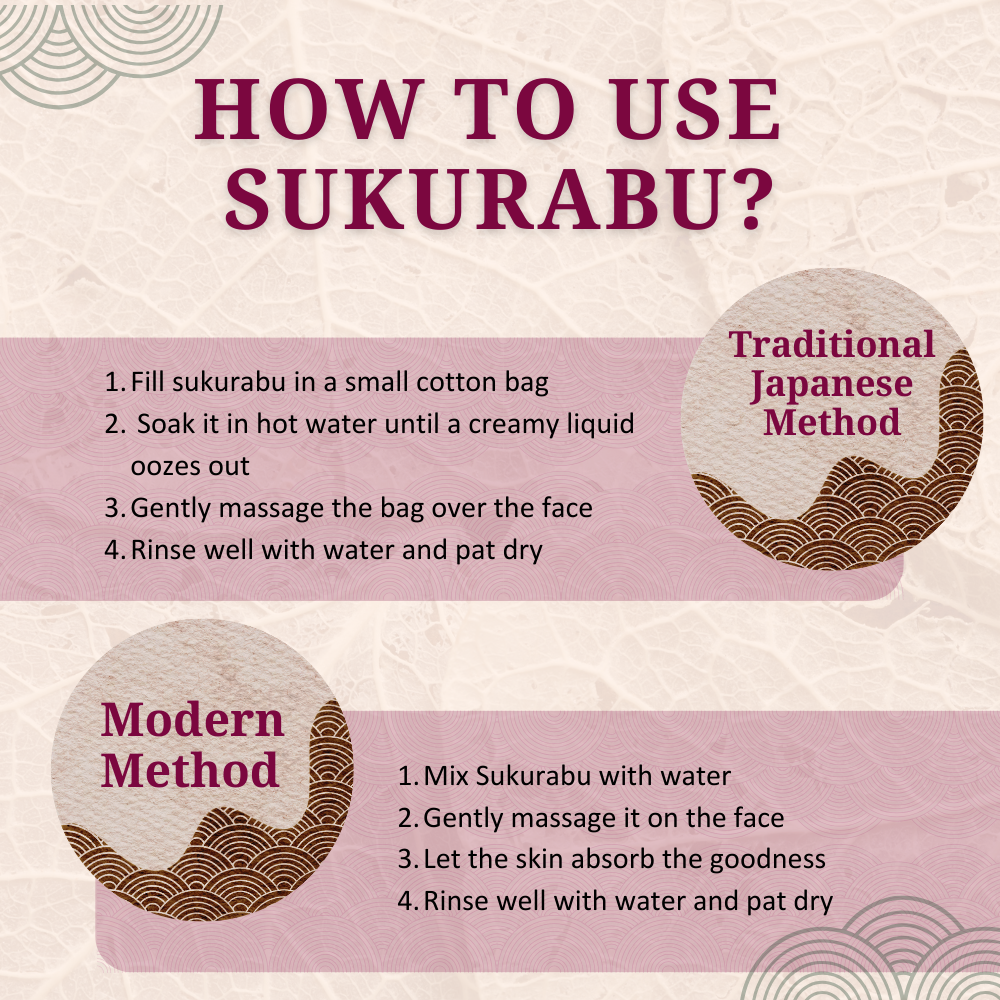 Key Ingredients
Rice Bran

The natural exfoliating enzymes and lipids in rice brand help remove dead skin cells and retain moisture.

Clove

Known as 'Devakusuma' or the flower of deities in Ayurveda, clove helps combat acne-causing  bacteria on the skin's surface, while its aromatic compounds enhance the sensory experience.

Licorice

A natural lightening agent, Licorice contains glycyrrhizin, which inhibits melanin production, reducing hyperpigmentation and promoting skin brightening.
Sukurabu traces its origins to Japanese self-care practices of the 8th-century "Heian" period. 
Renowned for its exfoliating, moisturizing, and softening qualities, generations of Japanese women cherished this recipe. 
This fine blend unveils the timeless secret of the Japanese beauty idol, Geisha's flawless complexions. 
It is often said that 'Japanese women never age,' and this scrub plays a significant role in maintaining their porcelain-like skin.
MODERN METHOD
Mix one flat teaspoon of cleanser with water and make a paste.
Gently massage it on the face, especially around problem areas.
Massage in a circular and upward motion for a few seconds.
Let the skin absorb the goodness of natural oils & minerals.
Rinse well with water and pat dry with a clean towel.
To boost skin nutrition, consider adding milk, cucumber juice, or rose water to the paste.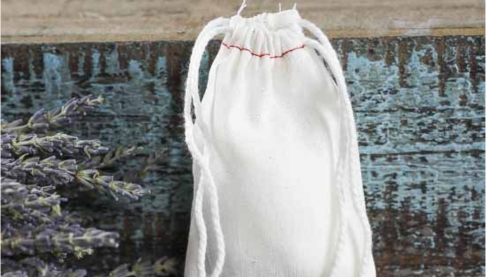 TRADITIONAL JAPANESE METHOD
Fill a small silk or cotton drawstring bag with 2 teaspoons of Kiyomeru and soak it in hot water.
The oozing of creamy liquid makes it ready to use.
Gently massage the bag over the face for a few minutes.
Rinse well with water and pat dry with a clean towel.
The drawstring bag may be used for 2-3 washings, once moistened.
After frequent use, empty the bag & wash it with soap & dry the bag before further use.
How Sukurabu Works on Your Skin
Gently Exfoliates
The delicate granules of Rice powder serve as natural exfoliators, gently whisking away dead skin and excess oils that may collect on the skin's surface.
Cleanses Impurities
The natural foaming qualities of Sukurabu delicately clean impurities and pollutants, while bestowing a fresh glow to the complexion.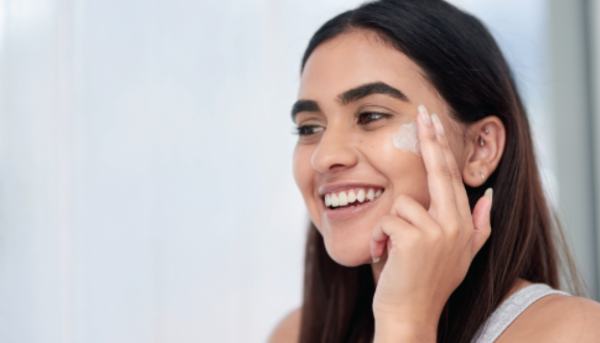 Brightens Dull Skin
The exfoliating blend of Rice and Licorice repairs sun-damaged skin to reduce the appearance of tan and dullness.
Improves Skin Elasticity
The infusion of antioxidants through clove extracts imparts elasticity to the skin and guards the skin against premature aging.
Plumps the Skin
Sukurabu's rich mineral content nourishes the skin with healthy oils and imparts a youthful appearance.
Quick view

Kiyomeru - The Purifying Japanese Face Wash

Regular price

₹695.00

Sale price

₹549.00
Quick view

Shata Dhauta Ghrita - 100 Times Washed Ghee (Ancient Skin Repair Night Cream)

Regular price

₹1,495.00

Sale price

₹1,295.00
Quick view

Sukurabu - The Ancient Japanese Scrub for Clear Skin

Regular price

₹695.00

Sale price

₹595.00
❤️❤️❤️
Now my search for skincare product is ends here. All ❤️Svarsya❤️ products are 😍best ever😍 skincare products.Their results are 😘😘😘amazing.Thanks👍👍 for making such a ❤️pure and natural products.
Average
The product is 100% natural so it can be a little harsh on your skin, you need to make sure u are not applying too much pressure while massaging this! It exfoliates very nicely but it leaves a thick oily cast on my skin bcz it's made of natural products but i don't enjoy that oily cast!
Gentle & Efficient
The exfoliating particles do their job appropriately without being harsh. It smoothens out the skin surface and removes impurities. This is a lovely scrub that is gentle and efficient at the same time.
Ur products are really awesome
Its really helping me to remove daily tan & dirt. Really helping to maintain my skin.
FAQs
Is Sukurabu a natural exfoliant?

Sukurabu is a natural and traditional Japanese exfoliant formulation for clearing out the skin of dead skin cells.
Is Sukurabu harsh on my skin?

No, the powdered consistency of Sukurabu makes it gentle on the skin and does not cause abrasions.
Is Sukurabu suitable for sensitive skin?

Yes, Sukurabu is safe for all skin types.
How often can I Sukurabu?

Sukurabu is safe to use every other day.
What should I use after Sukurabu?

Ensure to apply a hydrating moisturizer after exfoliating with Sukurabu.