TEJAS- THE COLLAGEN-BOOSTING 20% VITAMIN C + TURMERIC FACE CLEANSER FOR SKIN BRIGHTENING
Regular price

₹495.00

Sale price

₹449.00
Experience the fusion of ancient wisdom and modern science with Tejas. 
With knowledge derived from the Sushruta Samhita, Tejas harnesses the power of Haridra (turmeric)  to naturally remove impurities, boost collagen, and brighten your skin.
It utilizes the rejuvenating freshness of acai berries, a rich natural source of vitamin C that boosts collagen production for youthful skin. Infused with the "Golden Essence" of turmeric, it imparts a luminous glow with regular use.
Boosts collagen for youthful skin

Brightens skin texture

Deeply cleanses without disrupting the skin's pH balance.

Clears dust and pollution

Reduces wrinkles and signs of aging

Unclogs pores for a blemish-free complexion.
Key Ingredients

Vitamin C, Turmeric, Acai Berry, Hyaluronic Acid
How to Use

Pump a generous amount of the cleanser onto your palm. Lather well and massage on the face. Rinse well.
Ingredients

Acai berry Extract, Ascorbic Acid, Turmeric Root Extract, Wild Flower Honey, Gokhru Seed Extract, Rose Water, Mulberry Extract, Olive Oil, Vitamin E, Pro-Vitamin B5, Aloe Leaf Juice, Betaine, Cocamidopropyl Betaine, Cocoyl Glucoside, Decile Glucoside, Polyglutamic Acid, Propanediol, Propylene Glycol, Sodium Hyaluronate, Sodium PCA.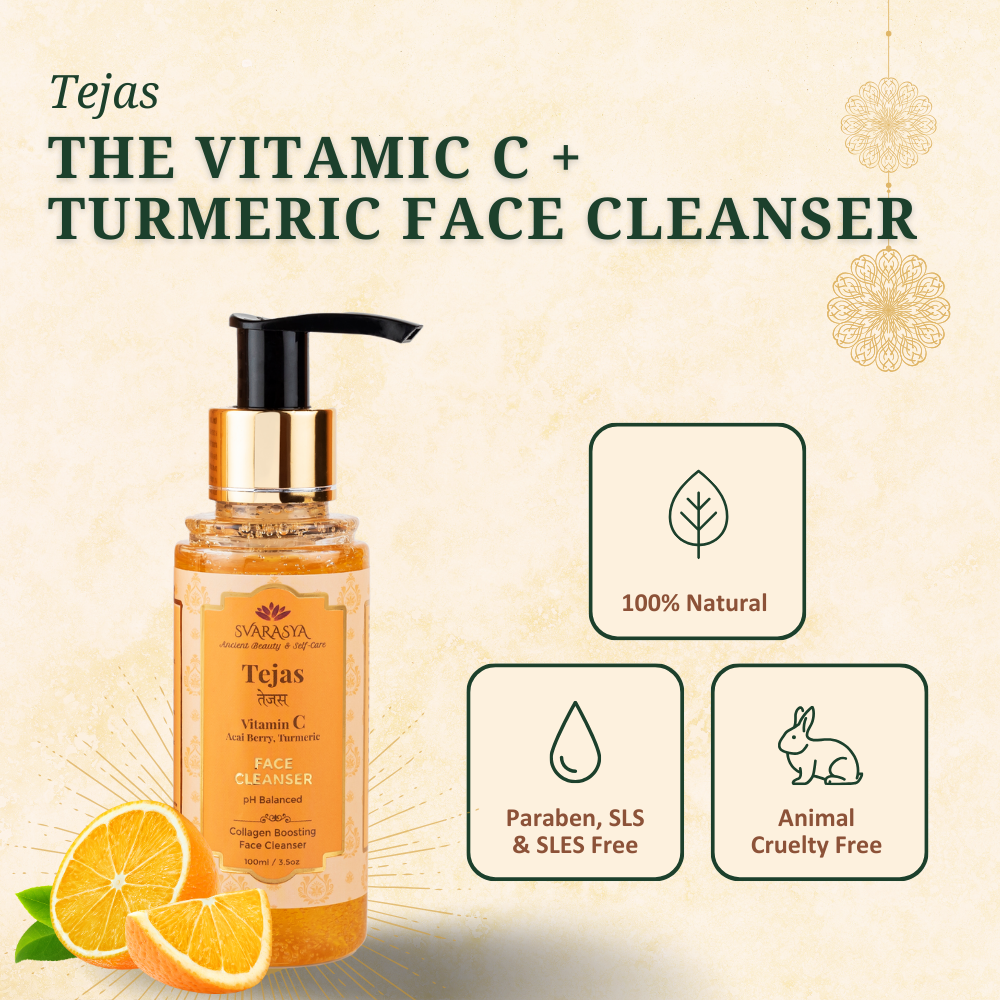 Key Ingredients
Vitamin C

A stable Vitamin C derivative, Ethyl Ascorbic Acid is a science-backed antioxidant that helps delay skin aging, prevents sun damage, and improves skin texture.

Turmeric Root

Known as the "Golden Goddess" in Ayurveda, turmeric even tones the skin, lightens excess pigmentation, and improves skin elasticity.

Acai Berry

As a natural source of organic Vitamin C, Acai berries help deal with oxidative stress, and early aging and support cellular turnover to reveal fresh, clean skin surface.

Hyaluronic Acid

Hyaluronic acid has the ability to capture moisture particles and lock them into your skin, making it the perfect ingredient to balance the skin's pH while deep cleansing.
The name "Tejas" draws inspiration from the Sanskrit word, signifying brilliance and radiance.
Svarasya's Tejas formulation is a blend of Ayurvedic wisdom-infused Turmeric and the modern skin elixir- Vitamin C.
Known for their skin brightening and healing properties, Tejas makes the perfect concoction for harmonizing the Vata, Pitta, and Kapha doshas.
Use the Tejas face cleanser alongside Tejasya face serum for utmost skin nutrition!
Gently Cleanses
The Tejas formulation guarantees a gentle cleanse, free from harsh chemicals or sulfates that might otherwise deprive your skin of its precious natural oils.
Brightens and Evens Skin Tone
The union of Vitamin C and turmeric reduces the visibility of dark spots, pigmentation, and uneven skin tone, offering a radiant, and uniform complexion.
Boosts Collagen Production
Vitamin C helps maintain collagen synthesis, promoting firmer and more youthful-looking skin with regular use.
Reduces the Signs of Aging
The rich antioxidants in Tejas shield your skin against environmental stressors, deflect premature aging, and reduce the appearance of wrinkles or fine lines.
Hydrates the Skin
With the hydrating goodness of Hyaluronic Acid, Tejas attracts and preserves moisture within the skin, maintaining its hydration, plumpness, and suppleness.
Quick view

TEJAS- THE COLLAGEN-BOOSTING 20% VITAMIN C + TURMERIC FACE CLEANSER FOR SKIN BRIGHTENING

Regular price

₹495.00

Sale price

₹449.00
Quick view

NIVR- The 100% Natural Sunscreen

Regular price

₹795.00

Sale price

₹525.00
Quick view

TEJASYA- THE COLLAGEN-BOOSTING 20% VITAMIN C + TURMERIC FACE SERUM FOR SKIN BRIGHTENING

Regular price

₹995.00

Sale price

₹795.00
FAQs
How does Vitamin C help my skin?

Vitamin C is an all-encompassing, potent ingredient that boosts collagen production and brightens skin tone.
Is Tejas suitable for all skin types?

Yes, Tejas is suitable for all skin types.
Can I use Tejas every day?

Yes, Tejas can be used twice daily.