Panchpushp - The Ancient Floral Hydration Lotion
Regular price

₹895.00

Sale price

₹625.00
Panchpushp captures the pure essence of five sacred flowers through the art of steam distillation. Our formulation distills sacred Ayurvedic self-care rituals into a single bottle.
This luxurious hydrating lotion is a harmonious blend of Nargis, Mogra, Rose, Lotus, and Rajanigandha. Together, the rich antioxidants give your skin a dewy, fresh complexion.
Panchpushp's hydrating properties make it the ideal choice for quenching your skin's thirst, evoking an ageless sense of beauty and well-being.
Hydrates dull and dry skin

with healthy oils

Soothes inflamed skin

Retains moisture for

up to 8 hours

Prevents

premature aging

Smoothes skin texture, making it

soft and supple

Is absorbed easily with a

non-greasy, lightweight, and dewy finish
Leaves the skin nourished, dewy, and radiant
Key Ingredients

Rajnigandha, Rose, Lotus, Nargis, & Mogra
How to Use

Take a coin sized amount on the palm. Apply the mousturizer on the face and massage gently.
Ingredients

Pure Nargis (Narcissus) Oil, Pure Mogra (Jasminum Sambac) Oil, Pure Rajanigandha (Polianthes Tuberosa) Oil, Pure Rose (Rosa) Oil, Pure Lotus (Nelumbo Nucifera) Oil, Saffron (Crocus Sativus) Flower Extract, Sandalwood (Santalum Album) Oil, Shea Butter (Vitellaria paradoxa), Cold Pressed Sesame Seed (Sesamum Indicum) Oil, Cold Pressed Almond (Prunus Amygdalus Dulcis) Oil, Cold Pressed Black Seed (Nigella sativa) Oil, Ashwagandha (Withania Somnifera), Aloe Leaf Extract, Vitamin E (Tocopheryl Acetate), Zinc Oxide, Vansh (Bamusa Arundinacea) Extract, Shirish (Glycyrrhiza) Extract, Hydrolyzed Wheat protein, Arbutin, Glycerin, Beeswax.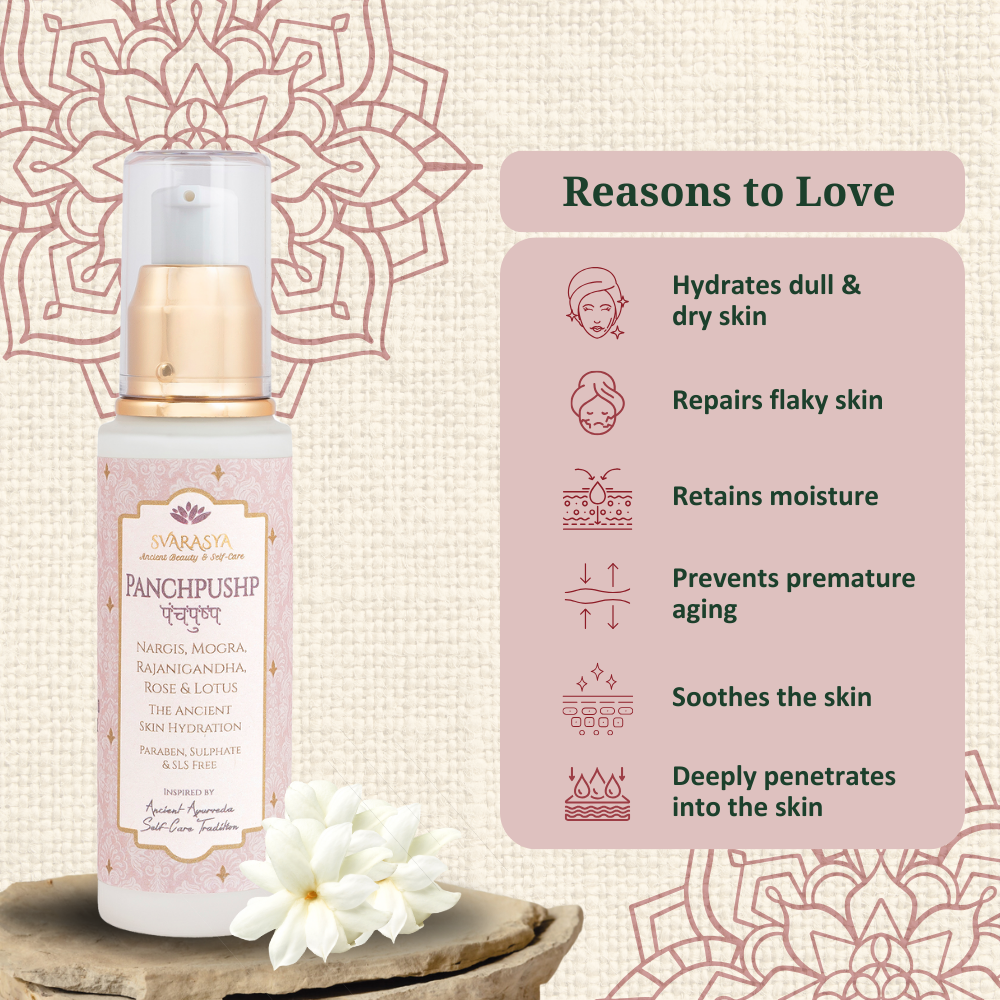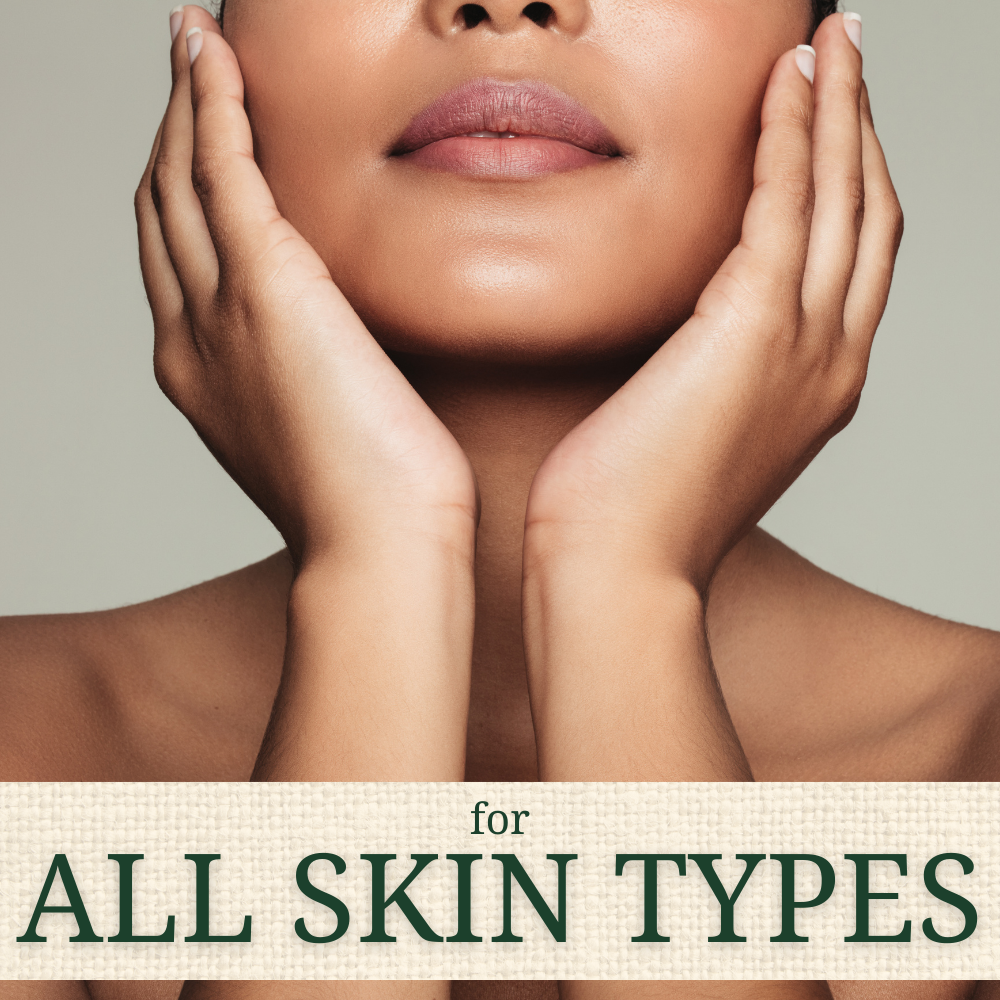 Key Ingredients
Nargis (Daffodil)

Known as 'A Poet's Daffodil', Nargis is a natural moisturizer absorbed by the skin. It deeply hydrates & lends a dewy after-glow.

Mogra (Jasmine)

The 'Gift from God', Mogra holds significance in Ayurvedic traditions for its heavenly fragrant essence that refreshes dull skin.

Gulab (Rose)

As 'The King of Flower Kingdom', Rose possesses intense cooling properties for Pitta (heated) doshas. It is a miracle floral essence extensively used in ancient remedies.

Kamal (Lotus)

Also known as 'Padma' in Ayurveda, Lotus holds sacred relevance in Vedic traditions & acts as a skin elixir due to its rich antioxidant properties.

Rajnigandha (Tuberose)

'The Night Fragrance' in Ayurveda, Rajnigandha is a sacred floral oil that helps counter the early signs of aging.
The Essence of Panchpushp
The ancient practice of Dinacharya, a daily skincare discipline enriched with nature's ingredients, is the cornerstone of healthy skin, inside and out.
Supplementing your Dinacharya with Panchpushp unlocks the secret to healthier, softer, and more supple skin.
To nurture holistic internal beauty, Svarasya women adhere to these principles:
Hydration through ample water intake.
Cooling floral teas to refresh the body.
A diet rich in fruits and vegetables for pH balance.
Nourishing the body with tender coconut water for essential minerals.
For enduring external beauty, Panchpushp stands as a lifelong companion, free from harmful effects.
How Panchpushp Works on Your Skin
Hydrates Dull and Dry Skin
The blend of five floral essential oils intensely hydrates dull and dry skin to lock in moisture for up to 8 hours and make the skin plump.
Soothes Flakiness and Inflammation
Rose essential oil lends its cooling properties to soothe flaky skin and rebuild the skin's surface for a radiant complexion.
Protects Skin from Aging
The essential fatty acids, vitamins, and minerals in Panchpushp form a protective barrier over the skin to help defend against environmental stressors that cause aging.
Improves Skin Texture
Seeping deep into the skin layers, Panchpushp renews uneven and textured skin from within for a smooth and supple touch.
Promotes Skin Harmony
This lotion has the potential to harmonize the Pitta doshas, helping maintain the right balance of nutrients for healthy skin.
Quick view

Kiyomeru - The Purifying Japanese Face Wash

Regular price

₹695.00

Sale price

₹549.00
Quick view

NIVR- The 100% Natural Sunscreen

Regular price

₹795.00

Sale price

₹525.00
Quick view

Panchpushp - The Ancient Floral Hydration Lotion

Regular price

₹895.00

Sale price

₹625.00
Bundle & Save
Ancient Skin Rituals
Irritating smell
My colleague found the smell so nauseating she couldn't finish her cup of tea.
amazing
i love it,, it smells very very indian,,,,(im not indian),,, n very soft, like silk,,very easy to put on face .
do hope svarasya will come out more good products,,, amazing,,, surely will buy again
Great hydration
I have been using this product since a long time now, it doesn't give any side effects and is very natural. It provides good moisture making the skin feel supple. Although it has a strong smell maybe because of its natural ingredients as it is chemical free. Also try not to apply too much product near your eyes unless you get used to this product.
Products details
I like svarasya products I hope we will use the whole life
FAQs
Is Panchpsuchp suitable for sensitive skin?

Yes, Panchpushp is a natural moisturizer that suits all skin types. However, we would recommend that you do a patch test on your hands before using it to ensure efficacy on your skin.
Is Panchpushp suitable for winter?

Yes, Panchpushp provides intense natural moisture that is perfect for winter dryness.
What is the consistency of this moisturizer?

This moisturizer has a light, oil-free creamy consistency that glides through the skin.
Does this moisturizer have a fragrance?

Panchpushp does not include any artificial or synthetic fragrances, but only the medley of fragrances created with a blend of  Mogra, Rose, Nargis, Lotus, and Rajnigandha floral essences.
Does this moisturizer contain SPF?

No. We recommend applying Nivr on top of Panchpushp before stepping out in the Sun.