Kiyomeru - The Purifying Japanese Face Wash
Regular price

₹695.00

Sale price

₹549.00
This 1200-year-old recipe embodies the Japanese art of Kiyomeru, which stands for purifying and dispelling impurities. Our formulation elevates this art of purity into a daily habit.
At the core of Kiyomeru resides its star ingredient - Adzuki beans. Throughout generations, Japanese skincare rituals cherished Adzuki beans for their detoxifying properties.
This makes Kiyomeru a gentle and rejuvenating facewash for a healthy complexion
Deeply

cleanses impurities

and excess oil to reveal clear skin

Gently

exfoliates dead skin

from the surface

Stimulates blood circulation

as you massage the powder into your skin

Renews skin texture to

reveal smoother skin
Prevents acne breakouts

and soothes acne scars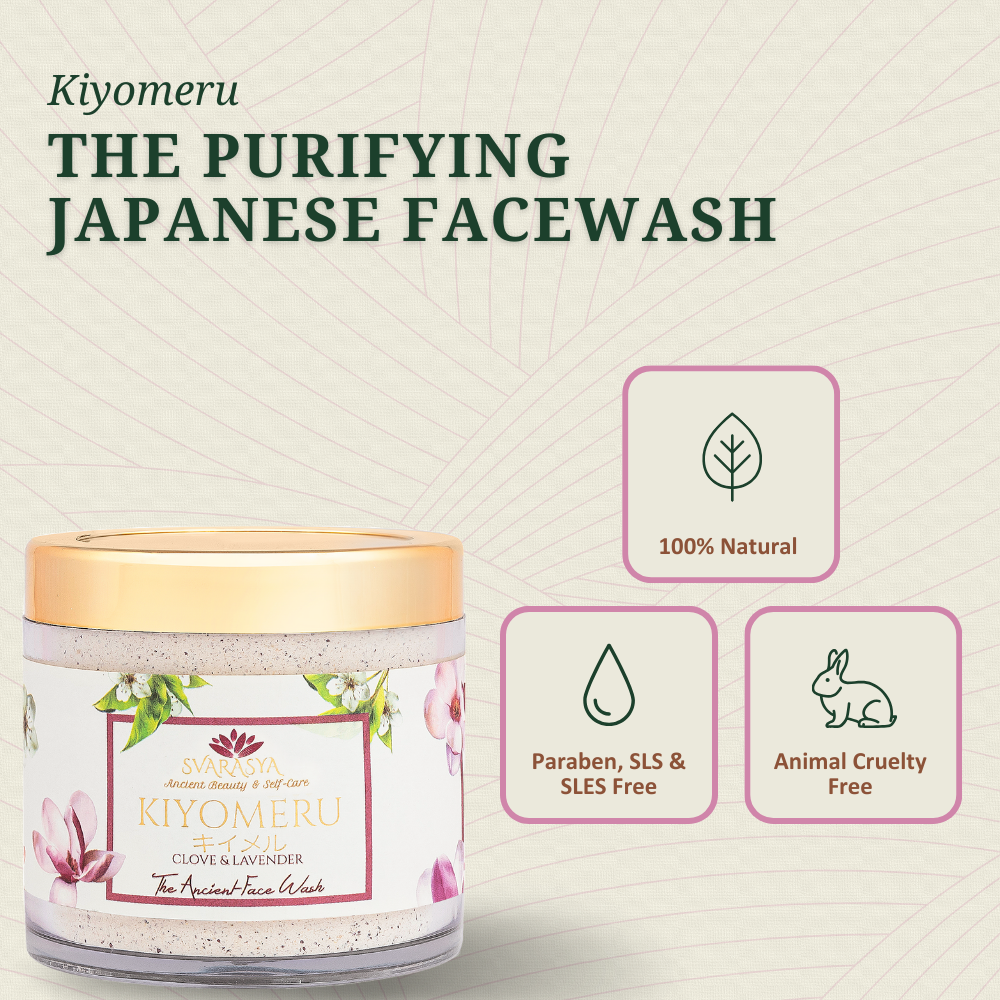 Key Ingredients
Neem

Lending its antiseptic and antibacterial properties, neem extract reduces acne and skin heat.

Adzuki Beans

Enriched with Saponin, adzuki beans have a natural foaming capacity that gently exfoliates the skin to unclog pores.

Lavender

Anti inflammatory in nature lavender, oil soothes the skin which reduces redness and scars.

Clove Extract

Highly rich in antioxidants, clove adds life to dull skin, improving skin texture.
This heavenly face wash was once the secret of royalties during the Nara Period (710-794). 
They achieved porcelain complexions through this pink bean powder filled in small silk pouches.
Today, Kiyomeru's formula continues to impart its pure radiance to modern Japanese women who embrace the wisdom of ancestral beauty rituals. 
Its soft texture, fresh aroma, and healing prowess make it a true revolution in skincare.
MODERN METHOD
Mix one flat teaspoon of cleanser with water and make a paste.
Gently massage it on the face, especially around problem areas.
Massage in a circular and upward motion for a few seconds.
Let the skin absorb the goodness of natural oils & minerals.
Rinse well with water and pat dry with a clean towel.
To boost skin nutrition, consider adding milk, cucumber juice, or rose water to the paste.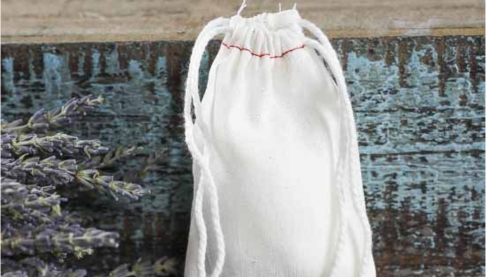 TRADITIONAL JAPANESE METHOD
Fill a small silk or cotton drawstring bag with 2 teaspoons of Kiyomeru and soak it in hot water.
The oozing of creamy liquid makes it ready to use.
Gently massage the bag over the face for a few minutes.
Rinse well with water and pat dry with a clean towel.
The drawstring bag may be used for 2-3 washings, once moistened.
After frequent use, empty the bag & wash it with soap & dry the bag before further use.
How Kiyomeru Works on Your Skin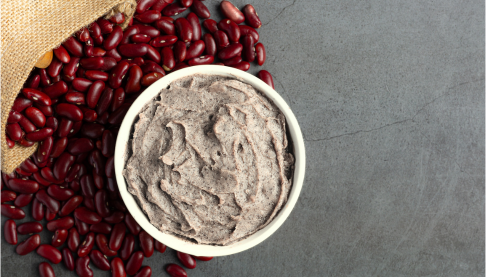 Cleanses Impurities
The natural foaming qualities of Adzuki beans delicately clean impurities and pollutants, while bestowing a fresh glow to the complexion.
Gently Exfoliates
The delicate granules of Adzuki beans serve as natural exfoliators, gently whisking away dead skin and excess oils that may collect on the skin's surface.
Reduces the Signs of Aging
The infusion of antioxidants through clove extracts guards the skin against premature aging and reduces its appearance.
Protects Against Acne Breakouts
The natural antibacterial properties of Neem extracts fight against acne-causing bacteria and harmonize the skin's natural oils.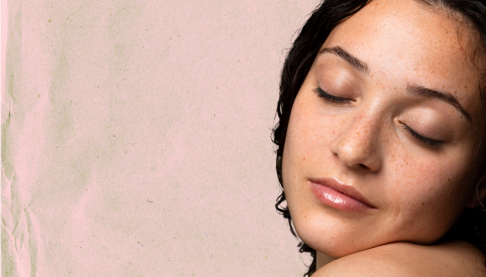 Reveals Oil-Free Skin
Owing to Kiyomeru's rich mineral content, it absorbs the skin's excess oils while retaining its natural moisture.
Unlock squeaky clean skin with Kiyomeru, every day!
WHY SVARASYA
Paraben/SLS/Sulphate Free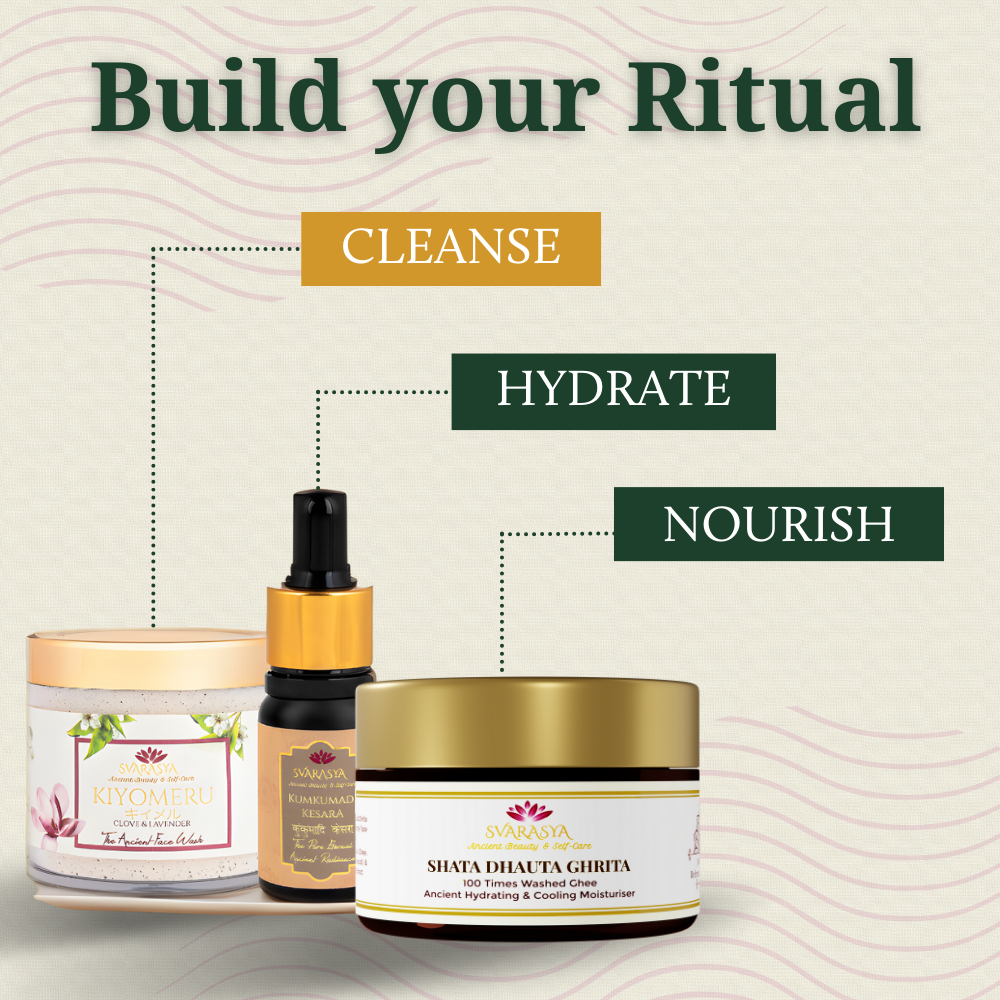 Quick view

Kiyomeru - The Purifying Japanese Face Wash

Regular price

₹695.00

Sale price

₹549.00
Quick view

Shata Dhauta Ghrita - 100 Times Washed Ghee (Ancient Age-defying Face Cream)

Regular price

₹1,495.00

Sale price

₹1,295.00
Quick view

KUMKUMADI KESARA TAILAM - Natural Face Serum for A Golden Glow

Regular price

₹995.00

Sale price

₹795.00
Kiyomeru Face Wash Review
Have been using it since last 2 weeks. Cleanses the face thoroughly. Mess free powder cleanser. And it truly gives glass like skin. I have attended 2 functions without any makeup because my skin was so tight and glowly already because of Kiyomeru. Great work with this one Swarasya. I am addicted to it.
KIYOMERU - Daily Powder Face Wash
Very good face cleaner
I am writing this review after using this product after 1.5 months, now it has been finished. This cleans skin very well, no dryness or oily skin after wash. I felt my face skin evenly tonnes, fresh, blemish free.I will recommend this to be used and now going to order one more.Again this is my skin review and may vary person to person.
Awesome awesome awesome 👏
Awesome awesome awesome.... make your skin smooth, clear and fair... love it.... I used many products of Svarasya and this one I like the most and another is hair oil ... both products are just awesome
Awesome
Love the texture, Fragnance and feel of this facewash. One of the best facewash I have ever used. My skin has become more clear and radiant with few washes. I avoid using any makeup and after using this facewash my skin does not need any makeup at all. it makes my skin smooth, bright, moisturized and beautiful.
FAQs
What does Shata Dhauta Ghrita mean?

Shata Dhauta Ghrita stands for "100 Times Washed Ghee". It is an ancient 5000-year-old Ayurvedic formulation with therapeutic and beautifying properties for various skin conditions.
Can Shata Dhauta Ghrita be used on both face and body?

Yes, you may use Shata Dhauta Ghrita on any target areas. It helps deal with severe dryness including dry patches, aging skin, wrinkles, skin heat, and inflammatory skin conditions.
Can I use Shata Dhauta Ghrita during the day?

Shata Dhauta Ghrita gives the best results when applied as a night cream. However, it is safe to use in the daytime as well to keep the skin hydrated.
What is A2 Cow Ghee?

A2 Cow Ghee is the ghee prepared only from desi cow milk. It is free from any additives or adulterations.
Is Shata Dhauta Ghrita suitable for oily skin?

Shata Dhauta Ghrita is a versatile cream that suits all skin types. You may adjust the quantity of application as per your skin texture.